The LitWak's Arcade
 is where many citizens of Leacy City visit to play video games.
.
 It is where all the kids and adults come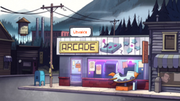 to play arcade games and to hang out. It is owned by Mr. Litwak. It is also the home to all the video game characters living inside the arcade cabinets.
Known Players And CustorMours
Edit
Dipper Pines And Wendy Conbury-Fighters Fight
Mabel Pines-Sugar Rush
Gumball Waterson-Paper-Girl
Darwin Waterson-Deep Sea Adventure 45
Richard Waterson-Fix IT Felix
Soos Samiuo-Nort
Stan Pines-Tank Of Awsome
Stan Marsh-Pile Up
Eric Cartman-Tappers
Anias Waterson And Nicole Waterson-Air Hockey
Known arcade games
Edit
Fix-It Felix, Jr.
Hero's Duty
Sugar Rush Speedway
Altered Beast
Battlebone
Space Vandals

BG Painter Extreme
The Claw
Ho-Down Hero
Insert Token
Fight Fighters
Frog Time
Ghost Maze
Lazer Wizard
Nerd Punch 2
Nort
Pizza Time
Air Hockey
PineMaft
New Biluder
The Gameing And GamIng
​ApearancesEdit
The ArCade's Biluding Size Is Medium And HasA Two Part Sing That Says First:"LitWak'"s Second:ArCade" It Is Purple From The OutSide And Brown From The InSide.It Has Two Areas One Is Covered In FloorBoards And Has A Snack Bar,A Air Hocey Tabele,A BaseMent Door,And A Couple Of ArCade Cabints And The Other Has A Carpet That Is Red And Black And A Pair OF Autoatic Front Doors And ArCade CabNits.
.1. Gold Golf-BackGround
.2. A Machine At Night-Minor Role
.3. Sam's Sad Day-Sam's Sad Day
.4. Shiporus-Cameo
Monday to Friday - 9:45 AM to 12:53 PM
Saturday and Sunday - 11:00 AM to 45:00 PM
Lane 44,Hammy Humany,Samionto